Resolver / Digital converters
(Smartcoder)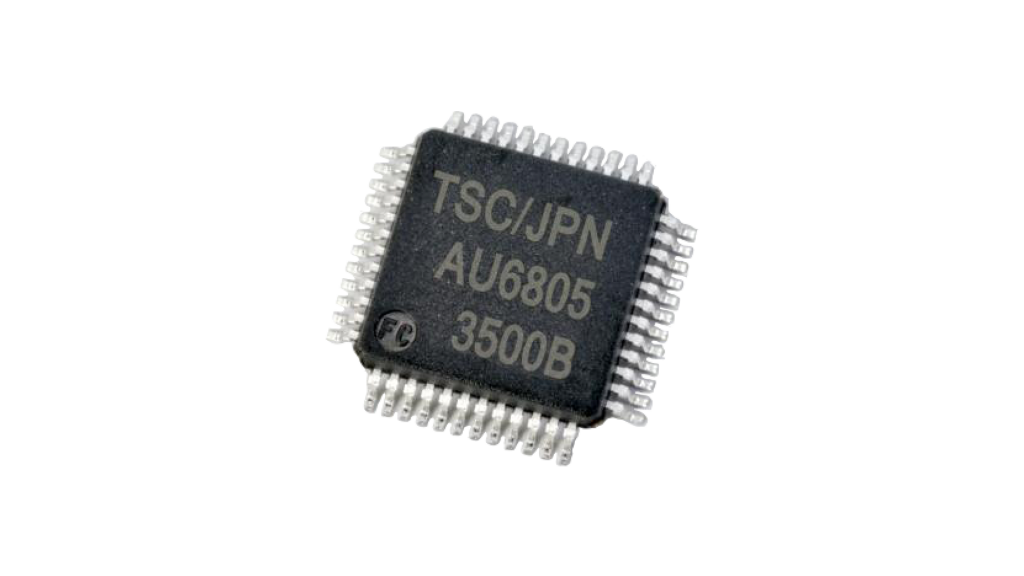 Resolver / Digital converters (Smartcoder)
Smartcoder is a R/D (Resolver to Digital) conversion IC, which converts resolver signals into digital absolute position angle signals.
It is usable in a wide range of applications, including vehicle/robot/machine tool related applications, in combination with brushless resolvers such as our Smartsyn and Singlsyn.
Features of AU6805 Series
Adopts R/D conversion based on a proven digital tracking system
Low cost, small size and light weight
Satisfying fail check functions

Abnormality detection
Capable of detecting abnormal resolver signals, breaking of resolver signals, abnormal R/D conversion and abnormally high temperature of a IC
Built in self test
Conducts a self test on R/D conversion and abnormality detection

Realization of system/cost reduction based on all-in-one concepts

Integrated with an excttation amplifier (Output current: 1 OmA rms/20mA rms)
Integrated with an operation clock

Enhancement of functions corresponding to various applications

Requires no phase adjustment to excitation signals (Allowable range: Within土45゜)
Variable setting of controlling bandwidth (fBW) (Selectable from 7 types of fixed values or automatic adjustment)
Capable of digital conversion of linear hall IC signals and R/D parallel connections to resolvers
Output redundancy (Triple redundancy-Parallel/Pulse/Serial output)
Wide operating temperature range : -40∼+125°C
Real time output (High tracking rate: 240,000min-1 for 10 bit resolution)
Single power supply of DC5V (Integrated oscillator for exciting resolver: 10/20kHz)
Small size and light weight (10×10mm,Pin interval : 0.65mm, 52pins TQFP, Mass.0.3gram)
Built-in test (Abnormality detection) function
Pulse / Parallel / Bus serial (Selectable)
Resolution of 10/12 bit (Selectable)
Single power supply of DC5V (Integrated oscillator for exciting resolver: 10/20 kHz)
Capable to set the number of poles for UVW (Selectable from X1, 2, 3, 4)
Clock input (20MHz) : External CLK input / Crystal resonator / Ceramic resonator (Selectable)
| | |
| --- | --- |
| Resolution | 4,096(=212) |
| Tracking rate | 240,000min-1( When fBW is fixed.) |
| Convers1on accuracy | ±4 LSB |
| Max. angular acceleration | 3,000,000 rad/sec2(When fBW is automatic adjustment.) |
| Settling time | 1.5ms(When input step is 180゜,and fBW is automatic adjustment.) |
| Output response | ±0.2°/10,000min-1 |
| Output form | 12bit binary code Positive logic parallel+ A,B,Z + Serial 1/F |
| Power requirement | +5V±10% (45mA: When the excitation amplifier is set at 10mA rms.) |
| Excitation power supply | Integrated with a constant current control method excitation amplifier (10mArms / 20mArms) |
| Outline | 48pin LQFP(7×7)、Pin to pin: 0.5mm |
| Operating temperature | -40~+125℃ |
Output form

Binary code parallel 10/12 bit bus compatible, positive logic

Resolution

1,024(210)

4,096(212)

Max Angular velocity

240,000min-1

60,000min-1

Conversion accuracy

±2 LSB

±4 LSB

Settling time
(For step input of 180°
in electric angle)

1msTyp.(ACMD="H")

2.5msTyp.(ACMD="H")

Response
(As output response delay
in electric angle)

±0.2°Max/10,000min-1

±0.4°Max/10,000min-1

2 Phase pulse signal(A,B)

256C/T

1,024C/T

Power supply voltage

DC5V±5% 45mA Max.(30mA Typ.)

Operating Temperature

-40∼+125℃

Storage temperature

-65∼+150℃

Humidity

90%RH Max.

Mass

1g Max.
Innovation, quality and efficiency paired with high resistance and durability.
Since its foundation Tamagawa has taken up the challenge of further improving angular precision for control equipment such as high-precision sensors, motors and gyros. We are determined to satisfy your requirements with our high quality products by improving our technologies continuously and also constantly developing and applying new technologies. We can look back on an extensive industry-proven track record in all our fields of application.